We have a YUMMY theme over at
My Sheri Crafts
this time around! Ice cream, ice cream, and yet more ice cream! You got it! Use ice cream on your project to celebrate July's National Ice Cream Month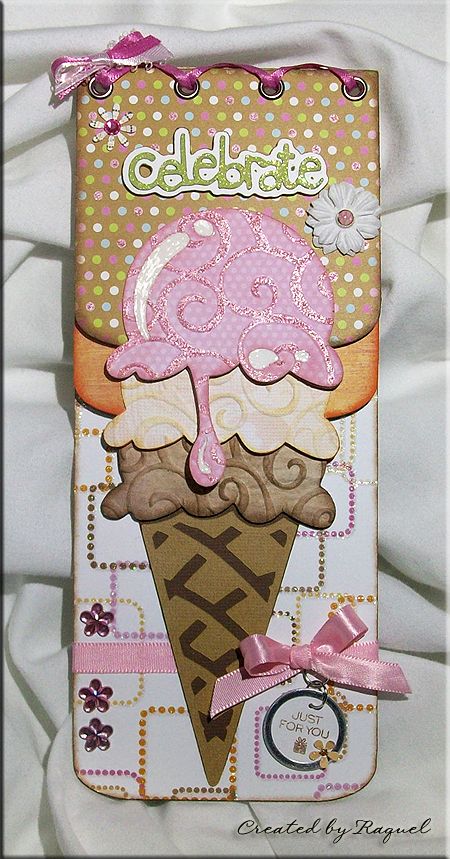 I wasn't exactly sure what to do for my project except I was absolutely sure, I didn't want to make a traditional card. At first, I was going to make a word book. So, this is what I ended up making... a hybrid of a birthday card / mini book. As you turn the page... a scoop of ice cream also disappears. I should have made four pages so the last page would leave you with just the cone. Oh well! Next time.
I had a great time creating this in Design Studio... lots of welding. I also had to use SCAL to create some of the shadowing for the lettering since the original is too thin or just didn't exist
... lots of embossing and inking and glitter as well. What a messy project but well worth it
Now let's see what you come up with! Come join us at
My Sheri Crafts
with your ice cream projects
Click on the images for a larger view
Project size - 3.5" x 7"
Papers - DCWV
Crop-A-Dile - eyelets
Cuttlebug - embossing
Memory Maker Tag Maker - tag
Stickles - various colors
Sure Cuts A Lot - shadowing
Design Studio
Cricut cartridges:

Celebrations - "celebrate"
Fabulous Finds - base shape pages
Indie Art - ice cream
Stamping - "It's Your Day"
Wild Card - "Happy Birthday"