Depending on what calendar you're looking at, some events and observances may not show up. However, there are so many obscure "holidays" in the states that actually get overlooked! I think they make a new one up every year!
I found out that August 10th is National S'mores Day and that August 30th is National Marshmallow Toasting Day... who knew?
So, what better way to celebrate these obscure yet yummy holidays? A chocolate themed project over at
My Sheri Crafts
!
Using one of my favorite stamps... here's my take on this theme
... and the inside of the card popped up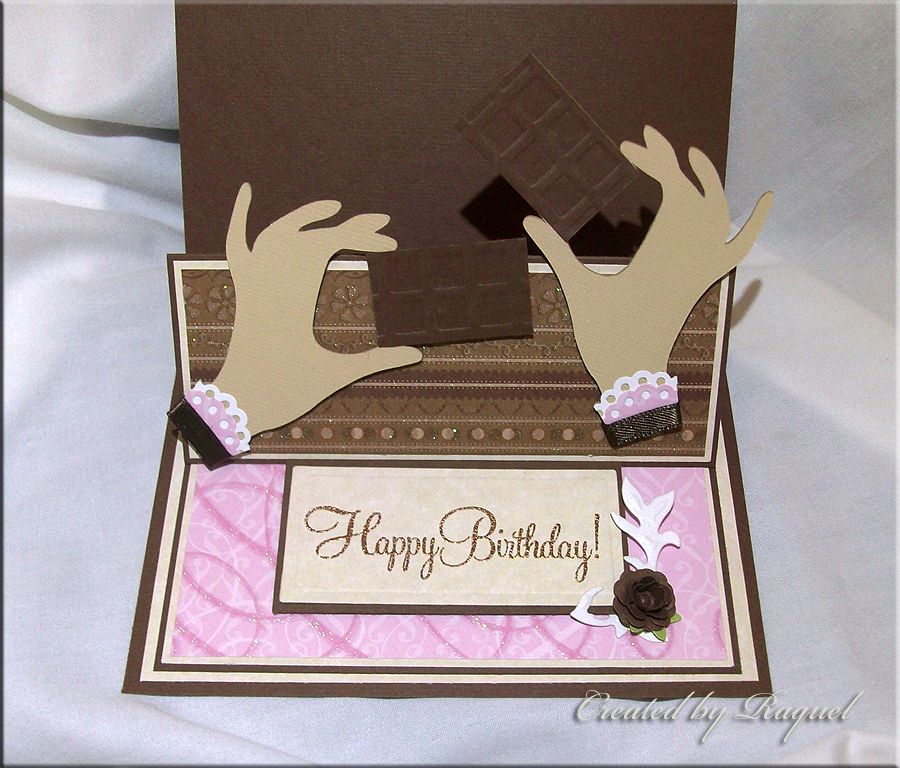 Best part of this whole project was getting to eat those chocolates in the picture
Thanks for looking!
Now... it's your turn to create something spectacular and join us over at
My Sheri Crafts
Card size: 5.5" x 4.25"
Supplies used:
Papers from DCWV: Sweet Stack
Close to My Heart stamp: "Happy Birthday!"
Cricut cartridge: Sentimentals (hands)
Fiskar corner punch
Fiskar flower punch (each flower has 5 layers)
Fiskar flower punch (for the leaves)
Martha Stewart border punch (for sleeve cuffs)
Michael's rubber stamp (for the sentiment on the front)
Perfect Pearls
Sizzix embroidery plate (for the chocolates inside)
Spellbinders (for the flourish and frames)
*Stamps are heat embossed
*Brads to hold all flower layers together