My Sheri Crafts
Design Team sister, Michelle, had asked us to make a summer themed project using the colors, black, yellow, and white. Upon seeing the title and the theme requirements, the first thing I thought of was... of course... a bee. However, I didn't want to make a project with a bee
So, this is what I came up with! Inspired by the song
"Itsy Bitsy Teenie Weenie Yellow Polka Dot Bikini"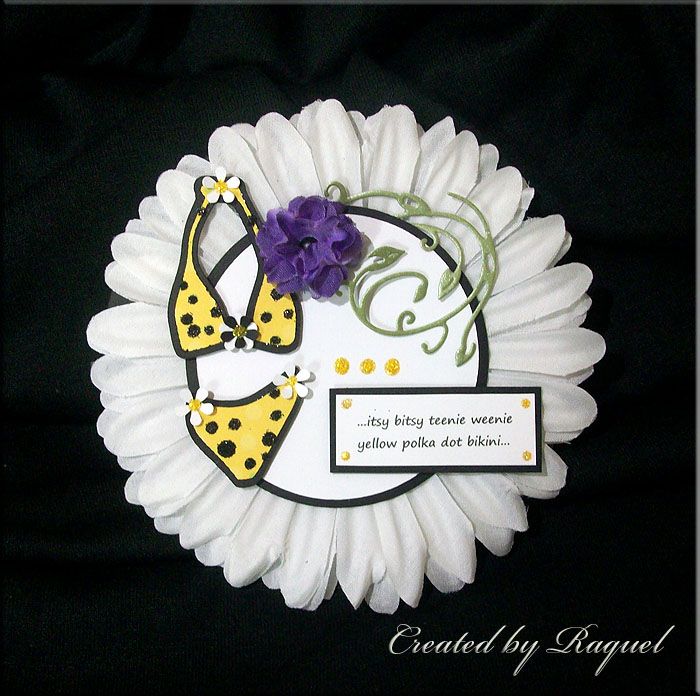 I took 3 layers of flowers (each a little over 4.25" in diameter) and attached it to a circular card base. I found the silhouette of a bikini online and used SCAL to cut it and decorated it with black glitter for the polka dots. I thought I'd add the purple flower and the green flourish for a bit of color... it was too monotonous with plain black, yellow, and white. The flourish is from Cheery Lynn and the quote from the song is computer generated
Thanks for looking!
Now... it's your turn to create something spectacular and join us over at
My Sheri Crafts
Card size: 4.25" x 4.25"
Supplies used:
Papers from Recollections
Silk flowers
Cheery Lynn flourish die cut
Fiskar flower punch
Stickles
SCAL