Welcome to 2013! We are kicking off the new year with an ALL Sport theme over at
My Sheri Crafts
to celebrate and recognize the athletes in our lives
For the last couple of years, my hubby has been joining Disney's annual marathons. He's done the 1/2 marathon for 2 years including last year which was Donald's 15th year anniversary 13.1 miles marathon event. This year will be Mickey's 20th anniversary for the 26.2 miles marathon event.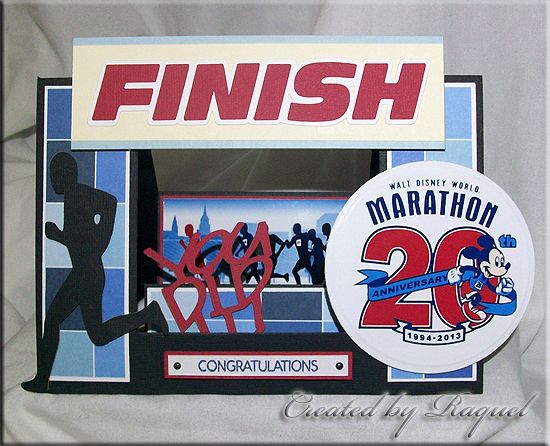 I plan to give him this card when he crosses the finish line... it will be his first FULL marathon run
I decided to use a double step card template to create this card. I found the image of the marathon runners in the background and printed it out on photo paper. The silhouette of the runner and the 20th anniversary Mickey logo were also downloaded online. I cut the silhouette with SCAL. I used the template I found for the Double side step card from Kimbee's Creations
Now... it's your turn to create something spectacular and join us over at
My Sheri Crafts
Card size: 8.5" x 5.5
Supplies used:
Papers - Generations
Design Studio
SCAL - "FINISH"
Spellbinder - circle
Stamp - "Congratulations"
Cricut cartridge: Wild Card - "You did it!"